Objectives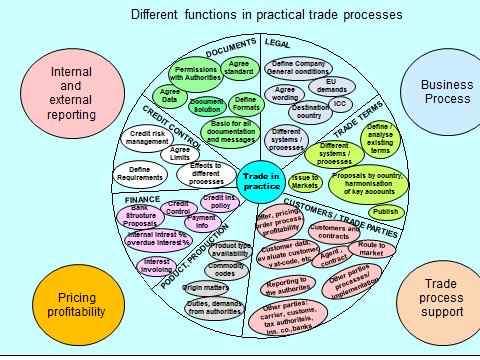 Export in Practice training focuses on relevant aspects and documents of international trade transactions, such as offers, international transport and logistics, distribution, payment options and methods, trade terms, VAT, customs, origin rules, risks and insurance. The learning contents are delivered through practical examples of various transactions, in addition to comprehensive and instructive material package.
The picture highlights the multiple functions that should be considered, taken care of and kept up-to-date in typical trade transactions.
Key contents
Key elements of successful international transactions, their mutual links and interfaces
All-inclusive holistic point of view to trade processes and documents (export, import, intracommunity trade)
The requirements and effects of fluent trade practices / documents for reports, communication and co-operation inside and outside the company
How all this affects my daily work
Trainers
Matti Malminen has extensive experience of trade and export finance – both from banks' and export companies' point of view. He has over 25 years career in banking, especially in managerial positions in export finance. Today Matti works as Global Head of Trade & Export Finance at Konecranes. In training Matti combines his strong hand-on experience to energetic way of presenting, creating much valued learning experience.
Pirjo Leino has 35 years experience of global trade practices with global companies and in numerous respective countries. Her position in business process development, being responsible of designing, developing and implementing the trade practices at Outokumpu corporation, has given her uniquely wide view and experience to demanding trade processes and practices. Pirjo has been praised as a trainer for her solid expertise and practical approach to training topics.
Open training registration and further information
As a open training this training is carried out in Finnish.
Registration at: viennin-kaytannot-export-in-practice-mif/