To whom
Managers, CEOs, directors, entrepreneurs, specialists, people who want a career change

Contents
The programme is designed to give a rigorous training in the ICF's 11 core competencies (see http://www.coachfederation.org). To achieve this, the programme includes:
two models of listening
types of questioning
the techniques of challenge and support
the development of one's coaching presence
the coaching process
the elements of the coaching plan
the individual coaching session
the concept of accountability
The main psychological model referred to is Transactional Analysis.
Schedule
27.-28.8.2018: Introduction into the rationale and practice of coaching
27.-28.9.2018: Behind the scenes of our mind
5.-6.11.2018: Relationships with self and other
10.-11.12.2018: Constructing reality – belief, challenge and change
14.-15.1.2019: Being and doing: professional issues
The programme has a strongly experiential structure
Our philosophy is to teach coaching through personal development. This means that the emphasis is on giving the participants the opportunity to understand and apply the theoretical parts of the programme to themselves and use in particular context. This gives the programme a strongly developmental, hands-on flavour.
A typical learning day will consist of
less than 30% transmission of information
30 % processing that information in small groups
40% practicing in coaching triads. In these practice sessions, participants take the roles of coach, client and observer, thus learning from both active and passive participation.
Participants can expect to learn
common sense criteria for coaching
core coaching competencies
ability to use the necessary skills for leading a coaching conversation
to recognize 'own and others' assumptions
to use coaching techniques
to co-create a coaching relationship
to use support and challenge as interventions
to understand of what coaches actually do and how they be
Coaching Core Competencies in action
See how a skillful coach uses Coaching Core Competencies. This may look like a normal discussion, but we let you take a look behind the curtain. In the video our Certified Coach Training participants Kati Tanninen and Marco Valentini use five of 11 Coaching Core Competencies.

Learning method
group work
mini-lectureslive demonstrations
exercises in triads with peer feedback
role-play
self-assessment
Written work
During the programme participants are expected to keep a learning Journal.
Additional requirements
In-between the modules participants are asked to do some reading, coaching practice and studying in the Internet. This will take notionally 3 hours a week, of which coaching practice in coaching peer one hour a week as a coach and one hour a week as a client.
We recommend that participants read the book Emotional Agility by Susan David between third and fourth session: Emotional Agility: Get Unstuck, Embrace Change, and Thrive in Work and Life >>
The programme runs for 10 days, generally starting at 9 am and ending at 5.30 pm.
Trainer
The Trainer is Léda Turai-Petrauskiene, a Master Certified Coach by ICF, who runs coaching trainings in Europe in several languages and who has gained her coaching experience working with hundreds of managers in profit and non-profit companies. The training language is English and Finnish.
On a six point scale (1…6) Leda's average is 5,88

Feedback from previous Certified Coach Training
"Very good and getting even better!"
"Any adjective used to describe Leda would be an understatement of her professional and human skills and capabilities."

"Thank you for organising this training. It has been a major milestone in my life."

"I have been interested in coaching for a long time and I am very happy to be finally able to participate. Thank you for organising the education!"

"I already feel like it would be wonderful to have coaching-training class 2 after this course. I don't want this to end :)"
"From leadership perspective this program has been most beneficial training I have attended.

I have been able to take the learnings from each module immediately into action and try the different methods and approaches in daily work. As my work role includes also training responsibility, I have benefitted from both substance and training delivery perspective, getting new ideas of exercises and activities.

Leda is a wonderful, knowledgable, compassionate coach who shares a lot of her own experiences and also puts her 'skin in the game' by running also coaching demo sessions."

Tomi Kaski, Accenture Finland, Nordic Sales Effectiveness Lead
On a six point scale (1…6) Certified Coach Training's average is 5,62
An advanced learning environment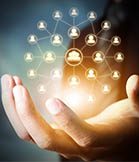 Our advanced digital learning environment offers:
An easy-to-use interface, similar to social networking sites
Support for a participatory learning process – even after the training
Real-time production and distribution of materials both in virtual and in face-to-face trainings
An easy way to engage your supervisor and your colleagues in your personal development objectives
Full ACC examination
10-day programme consists of the necessary training hours (65+ hours) for participants to meet the training prerequisite for the International Coach Federation's (ICF) Associated Certified Coach (ACC) examination with 11 core competencies. See www.coachfederation.org for the requirements of the full examination.
The Coach Training is organized with Coaching Development Ltd and L-CON Global. JTO Certified Coach Training is same as "Coaching Essentials" which is a part of the ICF accredited ACTP program "Training Professional in-depth Coaching Training". For the application the accreditation of Associate Certified Coach ACC, please follow this path.
Price
The course price is 5 500 € (+VAT 24%). This fee includes
10 training days
training material
lunch, morning and afternoon coffees with a snack.