Inspiroiva esimiestyö
Leadership Evolution in Russia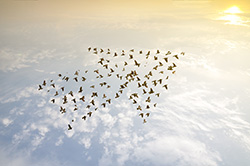 Tools for personal and team effectiveness: coaching techniques and approaches as a leadership approach.
In the era of information, technology and innovation it's very important to be able to adapt to the changes that life dictates to us.In businesslife there are also undergoing global changes. Below you can see some of the differences that distinguish leaders of «yesterday» and «today».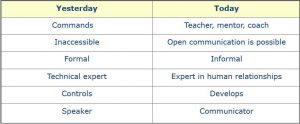 This put more demands for building a new skill set in the area of communication. Coaching tools and approaches can help enhance manager's abilities to implement all 4 key functions: producing, administrating, entrepreneur, integrating. Each function is oriented to support specific task and needs certain tools.
You can find some description in the table below:

One of the main directions of MIF Russia strategy is to develop coaching approaches as a leadership tool. We use coaching tools and approaches not only in management programs, but we use them also in each training we conduct.
Here you can find some examples how it sounds in the program «Tools of personal and team effectiveness: management with coaching techniques and approaches ».
Aims of this program:
To form top managers' needs in using coaching tools and approaches for getting effective personal ad team results.
To give basic knowledge of coaching approach and process, coaching tools, main requirements for a manager who use coaching tools in business practice at work place.
To provide managers with necessary tool set for new style of getting results.
My own research (about 100 heads of departments) "Key challenges for managers in Russia" show that key challenges for managers in Russia are:
Not skilled subordinates
Lack of motivation (both: employer's and self)
Interaction between departments
Frequent changes (rotation) of managers
Lack of knowledge how prioritize
Time management problems
Overload of staff
Stress at work place
Coaching is a process of in which a person called a "coach" supports a "learner "(champion) in achieving a specific personal or professional goal. According to coaching approaches manager changes his own perception and behavior globally and also he influences the perception and behavior of subordinates. His focus is on how "them can be enabled to get results", but not on "why didn't you get it". He believes that all subordinates have their own resources to achieve results" and he begins to understand his own role as a facilitator and enabler of performance.
The coaching techniques can be a conscience approach to everything we do in business. The core of the techniques is  in effective questions.
So, through out the whole program we train effective questions for different situations.
The beginning of this practice – understanding and training of 4 questions:
What do you want and what is your planned best result?
Why is it important?
How do you know you are on the right way?
What are the best steps to achieve the planned results?
Step by step participants start to realize the great difference between: "To say them how to do it" and "To ask them how you can do it".
Of course we help to acquire many other tools as well.
The variety of the tools we provide for the tomorrow's leader make our participants stronger as managers and leaders and lead them to better results.
The program lasts 3 modules, each – 2 days
Program is for top managers and heads of departments
Participants get about 30 tools to support 4 key functions
All cases of this program – are real participants projects or some parts of it from their work place