Working together to develop your organization's skills
Management Insitute of Finland MIF Oy is Finland's leading private workplace trainer. MIF has around 40 training experts and nearly 300 network trainers. MIF's training units are Qualifications and Competence. MIF's brands are Infor and MIF Qualifications.
Our clients are Finnish companies and organizations, whose staff competence we develop together with the HR professionals of the client organizations. Increasingly, training is delivered remotely over the network with instructor support or entirely online. Learning can also be organised at the client's premises or alternatively as face-to-face training at our training centres in Helsinki, Tampere, Jyväskylä and Oulu.
Aiming to strengthen and grow our market position
The starting point is to deliver the best possible value to each client by combining useful and up-to-date content, diverse learning environments that promote development and the most pedagogically effective methods. MIF sees learning investments as linked to the ability of organizations and individuals to deliver customer value. Customer needs also drive the way learning is delivered. MIF enables all forms of training (distance, hybrid, classroom and self-learning) to be delivered with both high pedagogical and technical quality.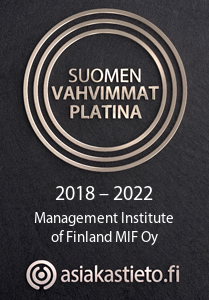 Welcome to develop!
MIF
MIF helps you find the right tools to improve your management and front-office performance, develop yourself and identify the sources of growth in your company. With us, you will learn how to develop your business, engage your staff and focus on what matters most in line with LEAN thinking.
MIF covers all aspects of international business, from the first steps in foreign trade to managing multicultural virtual teams. Our focus is on training for international growth, profitability and operational excellence.
Infor
With passion and solid expertise, Infor coaches the entire work community: managers, executives and experts to succeed in communication, and communication professionals to develop their skills. We offer both open communication training and tailor-made coaching.
MIF Qualifications
The old key cannot be used to open the new door. Whatever your current area of expertise, we can help you progress and gain an official professional qualification from the Finnish National Board of Education. Welcome to new careers!